Most people know what it means to eat healthy just as most people and understand the experience of working on the road. Unfortunately however, these are most often seen as mutually exclusive behaviors.
If you know what it takes to eat healthy and you know what it is like living on the road, why is it so difficult to do both simultaneously?
Usually when I tell people that I work on the road for extended periods of time, the first thing they say is "You are so lucky! You get to eat out at nice restaurants all of the time and eat whatever you want.", as if it is some sort of vacation at an all-inclusive resort. New sales representatives are often of this mindset as well, especially because most sales people have an expense account.
For those of you following me on social media, you may be aware that I am currently doing a 3 week business trip covering Western Canada.  This means that I am travelling by plane, by car and staying at hotels every night.  Most days, I am even changing hotels every day which makes it even more difficult to eat healthy.
After you've been in sales for a while, eating out gets old and you get to the point where you'd do just about anything for a nice home cooked meal.   About 8 years into my sales career, I had gained approximately 40 pounds and I decided that enough was enough.  I started working with a personal trainer and developed a system to keep fit and eat healthy on the road.
Besides weight gain, why should you bother eating healthy on the road? Eating healthy is not only great for your overall long term health, but on the short term it can provide a well needed energy boost and ramp up your immune system. 
How do I plan to eat healthy on the road?
Stay at Suite Hotels
This is my best kept secret! Why? Because suite hotels:
Are the same price if not cheaper than a standard hotel room at a major chain
They have full kitchens which are equipped with everything you need to prepare almost any meal that you can in the comfort of your own home.
Sometimes suite hotels even have in-suite laundry which can allow you to dramatically reduce the amount of luggage you are carrying
Shop at the Grocery Store
Treat your suite hotel as your home-away-from-home. Go shopping as if you were planning to make your meals and lunches for the week at home.  This will not only save you (or your employer) money but it will surely save you some inches on your waistline and maybe add years to your lifespan.  Below are some examples of meals I commonly prepare in my hotel room:
Breakfast: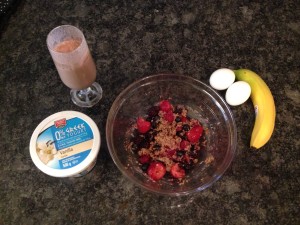 Protein Shake (milk, protein powder) & Bananna OR
Oatmeal, Mixed Berries (frozen if I have access to a freezer for a few days, fresh if not) & Greek Yogurt.
Lunch:
Sandwich using whole wheat or multigrain bread:
Chicken/Turkey with tomato, lettuce, onion, pepper low-fat cream cheese (the veggies I will also buy to prepare a salad for dinner and will make at the same time)
Tuna, low-fat cream cheese or 1% cottage cheese
**TIP: TO KEEP THESE COOL, PACK A FREEZER PACK AND A LUNCH SAC SO THEY WILL NOT SPOIL
Snacks:
Boiled egg
Fruit or veggies
Protein bar
Low fat cheese (Swiss) or cottage cheese
Can of tuna
Dinner: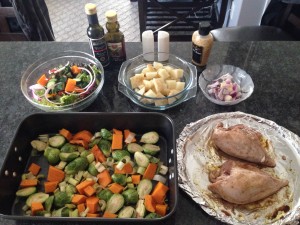 Mixed greens salad (appetizer)
Roasted chicken with smashed potatoes and steamed or broiled veggies
Chicken Fajitas (chicken, peppers, onions, cheese, whole wheat tortilla) with a side of veggies
Must-Have Items:
These items can either be bought at your location or you could pack them and bring them with you on your journey:
Lunch bag
Ice packs
Ziplock Bags: These are great for storing snacks, sorting single serving sizes of protein powder, oatmeal etc.
Reusable grocery bag: It is good to have at least one large reusable grocery bag for transporting your foods. For me, if I have 1 suitcase, 1 briefcase, 1 purse, 1 lunch bag and 1 large grocery bag, I can usually make it to and from my hotel room in a single trip.
Coffee Filters: Aside from the obvious use, these can also be used to store washed fruit in your lunch bag to prevent it from getting dirty, to keep your fresh berries fresh by putting it at the bottom of the container or soaking up excess water in a bowl when you prepare a salad.
Olive Oil/Balsamic Vinegar: These can be used on a variety of foods ranging from salad dressings to cooking meats (marinade, frying, etc.)
You might be thinking, "Travelling Saleswoman you are in sales! You can't avoid eating out all of the time?"
And yes, you are correct.  Certainly I must make time to entertain clients and occasionally take them out for a meal! Most of the time however, I prepare my own meals and snacks.
When I tell people that I have been on the road (away from home) for over 1 week and never ate out at a restaurant or had takeout even once, their minds are blown!  When I tell them that I cook in my prepare all of my own meals in my hotel room, they usually look at me as if I am speaking a foreign language.
I am currently working on a guidebook for professionals who spend a lot of time on the road in which I will be providing very detailed tips on how to stay fit and eat healthy.  This book will contain my typical shopping list, recipes, how I find the best suite hotels and much more.
In the meantime, if you would like any general tips or some of my hotel cooking recipes, please email me at TheTravellingSaleswoman@gmail.com and I will be happy to share.
Safe Travels,
TSW