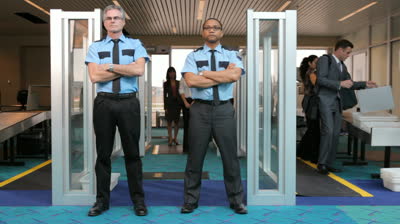 Now that summer has officially ended, it's the perfect time to start planning your next vacation or plan that next work trip. After all, flight prices are historically the lowest in the month of September.
If you're flying somewhere, I'm sure you're like most people who absolutely dread the thought of passing through airport security screening. It can be a timely and intimidating process.
What aggravates me the most is that although the process is quite simple, so many people are completely clueless or just pretend to be ignorant of the rules and cause unnecessary delay and headaches for everyone else because they are unprepared!
In this article, I will provide some useful tips and tricks of the trade that will help you better prepare for your next flight so that you (and your fellow travellers) can breeze through airport security.
BEFORE YOU TRAVEL: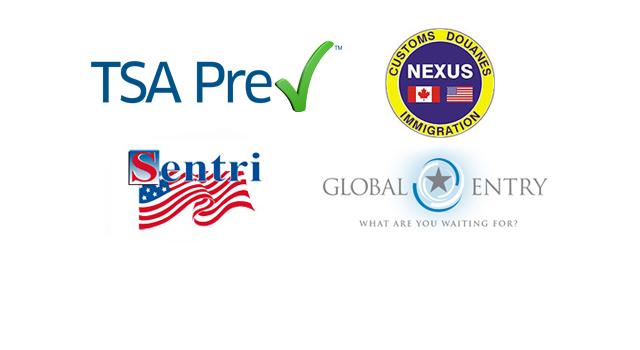 Enlist in a Trusted Traveller Program. These passes enable you to bypass regular line-ups because you have been pre-screened.  It is quite a process to get one of these cards but trust me, it's worth the 2 hours of interviews and the $50 even if it is just to save yourself sitting in line waiting for 2 hours on a single flight! My Nexus pass is the best investment I have ever made. To learn which would be the best for your travel needs and how to apply, visit US Customs and Border Protection Website.
Invest an Airport Lounge Pass (if you fly more than 3 times per year). Airports are expensive places to be held captive.  One time I had the "cheapest glass of wine" at an airport bar in SFO which was $27 before tax and tip! Yikes! If you're stuck only a few times per year for a few hours at a time, it is definitely worthwhile to invest one of these lounge passes because for whatever you pay for that pass, you will get your money's worth in food and drink that you won't be buying at airport prices like a sucker. If you travel frequently, you come out well ahead!
Visit Your Local Travel Health Clinic (Foreign Travel Only)

. Some countries have endemic diseases for which you will require vaccination before you travel. More exotic countries require several vaccinations that require 2-3 boosters that are to be administered weeks apart and you must have all of them in order to be fully immune.
BEFORE YOU GO TO THE AIRPORT: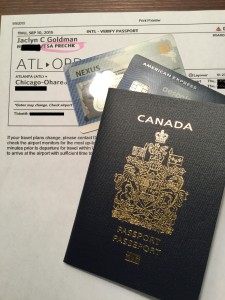 Be sure to bring the following items with you:
Photo ID

(Passport, Trusted Traveller Program Card, Driver's License)

Printed Copies of Your Itinerary

(Boarding Pass, Copy of Hotel and Rental Car Reservations). You never know when you will lose wifi access, if your phone battery will die or if you lose your phone all together!
Wallet (Credit Cards, Cash)

Liquids and Gels Separated in a Clear Plastic Bag

that is Easy to Remove from your Carry-on
Phone, charger and other electronics stowed

in your carry-on

. Any device containing a lithium ion battery is considered a dangerous good and cannot be checked. You will also likely need to charge your devices in the event that you did not do so prior.
Pens (for Customs documents if required)
Ziploc Bag (or a jacket with a pocket that zips up)
BEFORE YOU GO THROUGH SECURITY:
To save time and aggravation (for you and other travellers!) before you even line up at the security gate, step aside, sit down somewhere comfortably and remove the following items in ADVANCE.
Belt-

Remove it and put it in your carry-on
Jewellery-Take all of it off and store it in a Ziploc bag or in a pocket that you can secure with a zipper and store safely and securely
Loose change– Keep it in a jacket pocket which zips up (you will have to remove your jacket anyway) or stow it in a change purse that you can stow in your carry-on
Make sure that you can easily remove/have access to your:

Laptop

computer

Liquids and gels

(stored in a clear Ziploc bag)
You WILL have to remove these from you carry-on at the check point, so if you ensure that these are all easily accessible and can be easily put back into your luggage so you don't struggle with them and cause any unnecessary delay.
Empty your water bottle if you will be bringing it with you through security. It sure is better than tossing it in the garbage and paying $7 for a new one after security.

Boarding Pass (last

)– Once you have all of your other things in order, keep your boarding pass tight in hand. Do NOT store it in your suitcase! I can't count the number of times I have seen people do this!!
AT THE SECURITY CHECKPOINT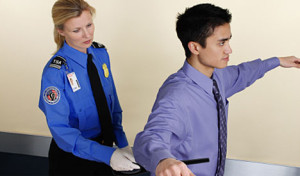 Assuming you took my advice and followed all of the aforementioned,  there isn't much to stress about doing at the security checkpoint itself.  Whatever you do, do NOT think that you can save time and get through quicker if you "forget to remove these items" because that will NEVER happen!  Keep in mind that as you approach the metal detector, you will be instructed to remove these items. If your bags already went through the x-ray machine, then you will be interrupting everyone else behind you. So be a good passenger and remove these items for screening in the x-ray machine:
Shoes with a heel or thick sole (pumps, running shoes, boots, etc.) Pretty much anything except flip flops. Try taking them off while you are waiting in line to save time.  They need to be in their own bin and its best if they are the first of your items to go through the scanner because they will be the first ones out of the scanner after you pass through.
Outer wear: Coats, sweaters, jackets, hats, sunglasses

Laptop computers

and other large electronic devices
Liquids and gels
AFTER AIRPORT SECURITY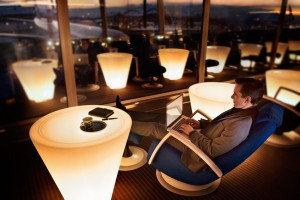 Make sure you know where your gate is and go to the airport lounge, sit back, relax and enjoy all the "free" food and drink you can until 30 minutes prior to boarding.
I hope some of you less frequent flyers find this information helpful.  If I can only save a handful of you, I feel like I'm making a difference.
Safe travels my friends.
Cheers,
TSW