My Epic Failures Selling Capital Equipment
Back in the day, I used to sell medical devices and I have to admit that I hated it.   The only thing I liked about it was the hefty commission but even that was just a one time deal.
For those of you who have ever sold capital equipment, you know how exciting it is to finally get the opportunity to do a product demonstration because if your demonstration is a success, it is highly likely you will be able to close on the spot.
If you're like me and slightly neurotic (ok maybe highly neurotic), the night before you spend countless time testing the heck out of your equipment to make sure it is working properly so that your demonstration goes smoothly the following day.  But even if you do that, there is always a chance that something can go wrong and not only ruin your potential to make that sale, but possibly to even be welcomed back down the road.
Product demonstration day is a make it or break it day.
When I was selling blood analyzers, I had to look professional and carry the following into a clinic in a single trip:
Analyzer #1 (50lbs) which was on wheels and 2ftx2ftx2ft in dimension. I secretly referred to this as "The Big Prick" although I never shared that with anyone of course
Analyzer #2 and #3 (35lbs in total) in a bag that went over my shoulder
A detail binder
Most of the time, nobody helped me with the door either. I tell you, it surely wasn't easy to get all of that in the door on your own and try not to break a sweat or the equipment (if it gets jammed in the door as you enter)!.
I always envied the pharmaceutical reps who sat in the clinic waiting room beside me who held a simple piece of paper or detail binder alone.  Lucky bastards, I thought.  This was a huge reason I decided to go into pharmaceutical sales! Then at least I could go back to wearing heels. You just can't wear high heels when you're carrying that much gear. I digress.
After sitting in the waiting room comes the second most nerve wracking part, setting up the equipment.  You have to do it fast to make sure it doesn't look to complicated and correctly on the first go.  This may take a lot of practice.
Then comes the most nerve wracking part, the actual demonstration!
My Epic Failures in Product Demonstration:
Epic Fail #1:
One time I had set up all 3 pieces of equipment and "The Big Prick" decided to leak all over the place!!! (Pun not intended but realized post-script) And I'm not talking about a small drip, the fluids (reagent solution) were just flowing out of the bottom of the machine as soon as I turned it on to prime it.  Of course this was the precise moment when my client and all of her staff walked into the room and saw everything!  I tried to explain that a small tube must have gotten loose during transport, so I opened the machine up to try and identify the location of the leak and well, my client saw how many tiny little tubes were inside this device and decided that it was all too easy for something to go wrong and regardless of what I said, they were no longer interested.  I packed up and left. Next!
Epic Fail #2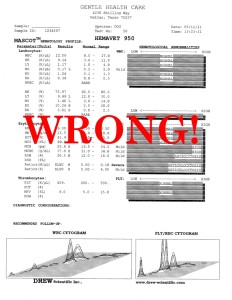 On another occasion where I had set up the equipment correctly, the client wanted to run some test samples on the device.  Although it was calibrated beforehand, for some reason the results on my machine were all completely out of range.  They even ran the same sample using two other testing methods (outside lab and their existing equipment) and those matched. But unfortunately, my equipment was off.  Way off. Since our main selling feature was the accuracy of the machine, I lost that sale and was not welcomed back.
Epic Fail #3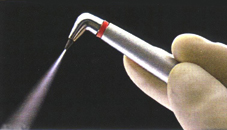 I also used to sell dental equipment, which included electrical scalers and compression-powered polishers. At a dental seminar we were sponsoring, another rep and I set up all of the devices on a side table and while the speaker was presenting, one of the machines suddenly would not stop spraying water out of the tip!  We tried to maintain our cool (mostly trying not to burst into laughter!) and avoid attracting any attention so we had to take turns holding this leaking piece behind our backs during the presentation and during breaks when the attendees were visiting our station to view our equipment.  Fortunately nobody noticed!  Sweat, sweat, sweat!
Those are just a few examples but these types of things happened on a regular basis. Although I must say that in defense of the equipment, I'm sure I wasn't always handling it in the most delicate manner at all times which didn't help *ahem* *ahem* but what rep does???
I struggled with the fact that even though I may have been a good salesperson, if the equipment you are selling doesn't do what it is supposed to and align with your sales presentation then the odds of you making the sale are slim to nil. I'm sure there is room to be creative and try to win the buyer back but if I test drove a new car that was malfunctioning, I most certainly wouldn't buy it.
In the end, I decided that capital equipment sales were not for me, but it sure was a learning experience!
If you have sold capital equipment, I would love to hear your product demonstration failure stories and what you did to overcome it.
Happy Sales!
Cheers,
TSW