Because Sometimes Mother Nature Can Be A Bitch!
Now that its summer time, we generally don't think of how the weather could interrupt our travel plans or at least I never did.  Here in Canada and in the northern US, snowstorms would be the most likely culprit to force us to put our plans to the way side. But interestingly, the only times I have had to make serious changes to my road trip plans have been during the summer months.
In this article, I'm going to share with you some instances where Mother Nature has lashed out with vengeance and no, I'm not referring to inclement weather like snow or rain.  Below are four instances where each of the 4 elements has grinded my travel plans to an absolute halt.  You can't make up these excuses!
1. Earth: The Sinkhole that Swallowed My Car
While en route in central Ontario, I parked my car on a gravel country road and just as I put it into park, I felt the car shift downwards slightly to the right.  I stepped out of my car and noticed that the passenger side wheels were a few inches deep into the gravel so I got back in my car and attempted to drive out of that spot but unfortunately, I was stuck.  As I exited my vehicle, I noticed that it was sinking and quite rapidly so I reached for my phone to call CAA and low and behold, there was no cellular reception.  Within 15 minutes, two wheels on the driver's side were up in the air and my car was rapidly sinking.   I had no choice but to knock on a stranger's door and ask them to use their phone.  Luckily they were home and as fate would have it, they recognized me from a store we both shopped at over 2 hours away! They informed me that CAA would take in excess of 2 hours to come out there so they offered to pull my car out with their pick-up truck and some chains.  By the time they got to my car with the pick-up truck, my car was completely on one side and in the ground up to the top of the passenger side window!!! Fortunately they were able to pull my car out and were even nice enough to rinse off all of the stones in the undercarriage and wheel wells for me before I went on my way.
2. Air: The Tornado that Almost Swept My Car Away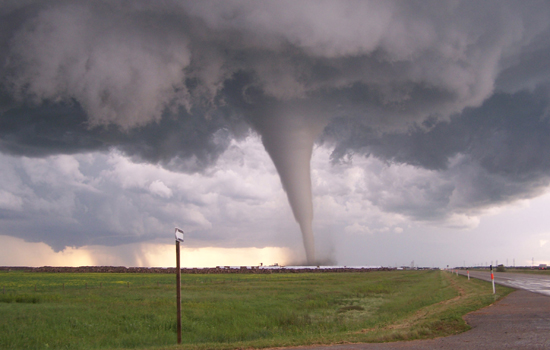 A few years ago, I was driving through a small country town in Southwestern Ontario that had just been hit by a tornado a few days prior when the weather took a turn for the worst.  The wind, rain and hail was so intense that I couldn't see anything so I pulled over and called my office to ask them to check if there was a tornado watch in the area.  The gal at my office informed me that there was a tornado warning for the area and that the radar map showed that one was likely occurring not too far away on my intended route.  With that information I decided to take an immediate detour but it was too late.  There was a deafening silence in the air and my ears began to pop.  I looked to my left and saw a funnel cloud touching the ground 80-100 yards away and it was approaching me.  I pressed my foot down on the gas pedal as far as it would go, but my car would not go faster than 120km/hr! I kept shouting to myself (well more like the car) "Come on! Come on! Go! Go! Go!!" It felt like I was barely moving and this funnel cloud was rapidly approaching, 50 yards….40 yards…It was terrifying but also an adrenaline rush like no other.  Fortunately I was able to beat the funnel cloud but only by a matter of a few yards before I would have been sucked into it or tossed around, whatever! That was a close call.  At that point I decided to just stop at the next town and cancel the rest of my day.  I was seriously off route and didn't want to risk encountering another one of these beasts!
3. Fire: Forest Fires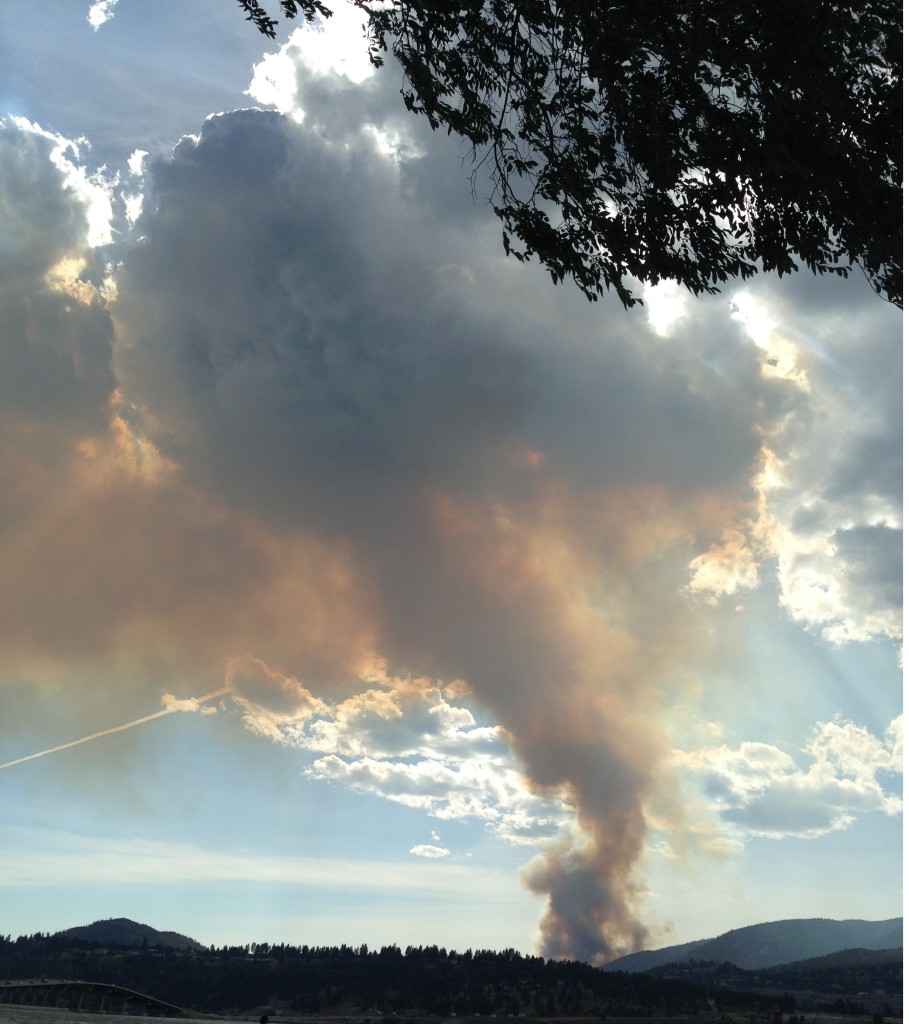 Last year when I was on a road trip in the Okanagan region of British Columbia, a series of severe forest fires broke out and several areas were being evacuated.  The first ones I could see were in western Kelowna.  I could see them from my hotel room and knowing that I had meetings with clients in that area the next day, I called them to ask them if they were ok and if they were under evacuation alert.  Needless to say, if you have to call your client and ask them if their property is on fire and if they are being evacuated, it might be best to cancel that meeting! Although my clients weren't being evacuated (just their neighbors!), I offered to bring by some emergency supplies and help as needed since they no longer had power.  Obviously no sales happened on this call!
Later in my travels to the southern Okanagan, I had to completely cancel the rest of my trip and fly out of a different airport because there were two forest fires; one on each side of the ONLY highway going into the mountains where I was supposed to go.  It was quite an expense and inconvenience to have to cancel the rest of my trip, but it was far too dangerous to risk driving on a highway surrounded by fires. What if the highway gets closed? What if I run out of fuel? Then what? In cases like that, my safety takes priority over making a sale.  After all, if you aren't around to collect that commission, what's the point?
4. Water: Massive Flooding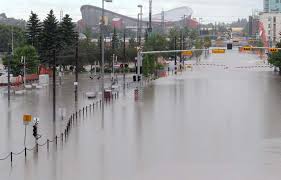 Two years ago I had flown to Calgary for a conference and had planned to cover southern Alberta which I normally do in the spring but this particular year I had to cancel my plans because heavy snowstorms caused the closure of all primary highways to the south. I suppose as fate would have it, I was not going to be seeing any clients in southern Alberta that year because when I flew in, southern Calgary and all areas south experienced massive flooding and many of my clients even lost their homes. In speaking with some other sales reps and the conference, I was shocked that some of them actually had the nerve to try and see these clients.  I'm sorry but if your client just experienced some major natural disaster and suffered extreme damages or lost their home, I don't think it is at all appropriate to try and make a sales call!!!  Have some respect and common sense people!
In my position, I cover all of Canada so I only get to see my clients once per year. I spend a significant amount of money travelling and invest a lot of effort into arranging these meetings, so I will do anything to avoid cancelling a meeting. I absolutely HATE having to cancel meetings! Sometimes however, instances like these arise that make it physically impossible to make to a meeting or an entire leg of my trip and  you just have to put your safety first and be cognizant of others' situations.
So travel safe my fellow road warriors!
Cheers,
TSW